It's hard not to fantasize about the creamy, rich texture of chocolate hitting your tongue before it slowly begins to melt in your mouth. Whether you like bite-sized bits filled with nuts, or bars of smoky, dark chocolate, it's always a good idea to treat your sweet tooth once in awhile.
If you find yourself craving a bit of cocoa around West Palm Beach, FL, it's a good idea to stop by one, or all, of these top chocolate shops.
Hoffman's Chocolates
Thanks to tasty gift baskets, custom cookies, and chocolate assortment platters, Hoffman's Chocolates has the perfect treat for every occasion.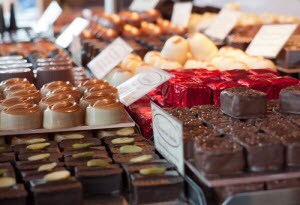 You'll find some really unique options at this beloved chocolate shop, such as Custom Image White Confectionery Oreos, and Custom Chocolate Bars, giving you the option to place a phrase or image onto your favorite treat. If you'd rather something nutty, Almond Butter Crunch, Pecan Pralines, and Peanut Brittle will all hit the spot.
And, for when the holidays roll around, you'll find everything from Snowflake Pops to Santa Mugs stuffed with chocolate covered pretzels.
These tasty desserts are only the tip of the chocolate iceberg. To see more, check out Hoffman's Chocolates Facebook page.
Oh My Chocolates
With a wide-array of options, comprised of only the freshest ingredients, Oh My Chocolates has long been a community favorite.
With over 70 varieties of confections, you'll likely need multiple visits to get a taste of everything in store. Truffles line the walls, with flavors like Irish Cream, Peanut Brittle, Espresso, Amaretto, and more.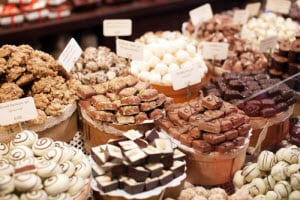 Once you're able to avert your eyes from these sweet chocolate treats, you'll notice a store favorite, the Chocolate Bark Products. White, dark, and milk chocolate are infused with fresh-roasted almonds, raisins, or peanuts, before being crafted into thick, square pieces.
If you'd like to dig around their inventory to check out some more goodies, try visiting Oh My Chocolates on Facebook.
Scheurer's Chocolate
Scheurer's Chocolate has a knack for creating chocolate treats that are both visually appealing, and hard to put down.
For example, the popular Florida Shells package is an assortment of light and dark chocolate molded into the shape of shells, like the kind you might find scattered on the beach. Another option is the Chocolate Covered Oreos that are marked with a little icing star on the top.
Finally, chocolate covered apricots, oranges, and cherries make eating fruit a lot more enticing. If you want to browse through some more tasty treats, visit Scheurer's Chocolate Facebook page.
Stop in For Something Sweet near West Palm Beach FL
If you find yourself craving something sweet around West Palm Beach, FL, stop by these chocolate shops for an assortment of delicious goodies.