Modern times call for modern vehicles, and Audi is rising to the task with their 2021 Audi E-Tron, the first fully-electric SUV offered by Audi. This impressive vehicle takes all of the things consumers have grown to know and love about Audis and thrown them together in a powerful yet environmentally conscious package. To learn more about what this revolutionary vehicle has to offer, check out our full review below.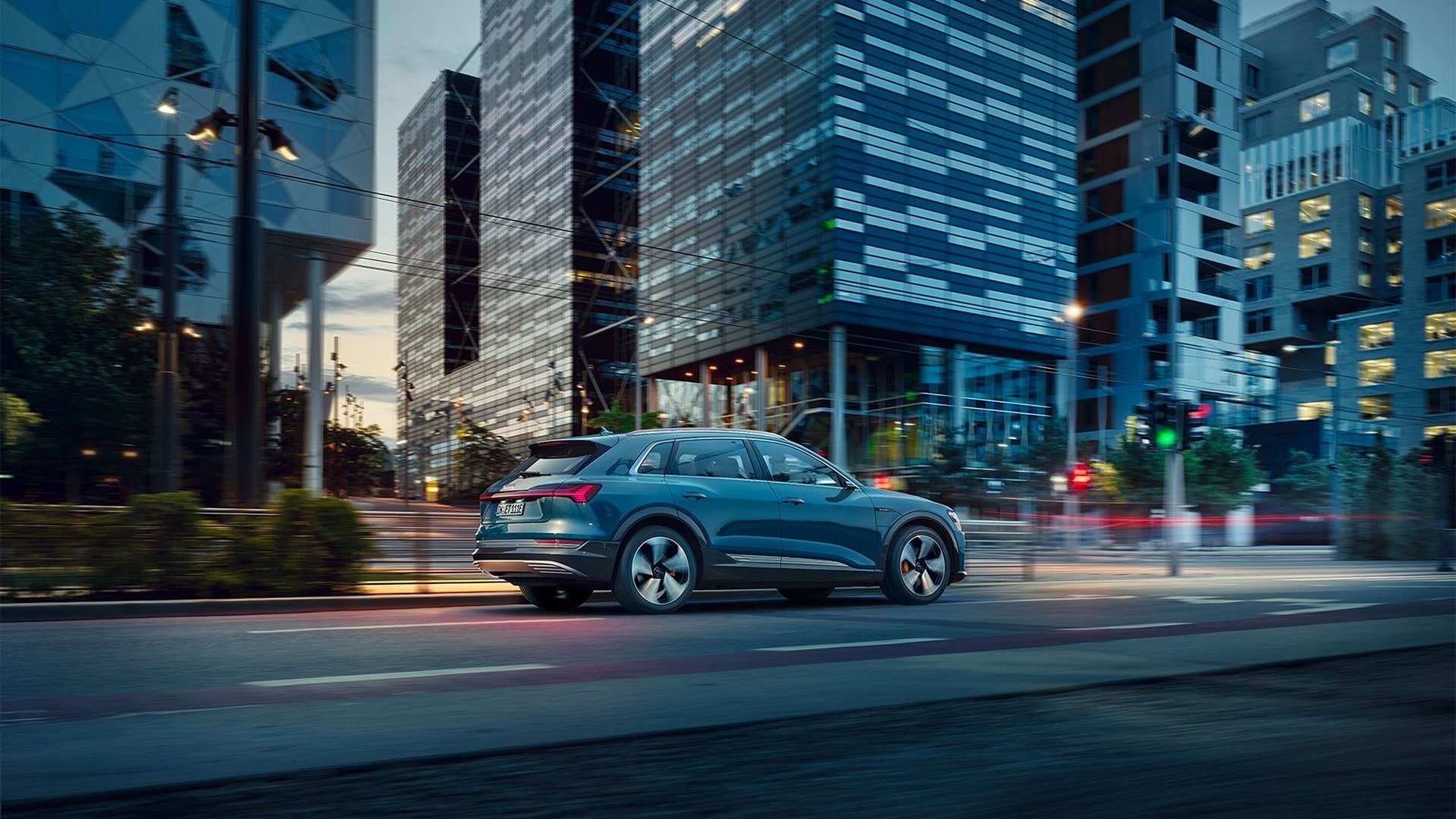 Under the Hood of the 2021 E-Tron
While the 2021 Audi Q-Tron is a fully electric vehicle, there is no shortage of power and potential. The Q-Tron's electric motor packs an incredible 402 horsepower and is capable of going from 0-60mph in 5.5 seconds. With a driving range of well over 200 miles, the Q-Tron is well equipped to handle most commutes and has a 95 kWh battery with an 8 year or 100,000-mile limited warranty. If that wasn't enough, the Audi Q-Tron also has towing capability! When properly equipped, your Q-Tron will be able to tow up to 4,000lbs making this vehicle as versatile as it is efficient. Like other Audi models, the 2021 Q-Tron has the exceptional handling of the Quattro all-wheel drivetrain and can handle road conditions of all types. Thanks to an impressive standard air-suspension system, the smoothness, and quietness of this electric vehicle are unparalleled. In fact, the electric motor is so quiet that Audi opted to add sound effects to help make this vehicle's power and quickness more apparent.
The Stunning Interior and Technology Features of the 2021 Audi E-Tron
As with any Audi, the interior of the 2021 Q-Tron is made from the finest materials. The leather upholstery is beautiful and matches the high-tech vibes of the rest of this vehicle perfectly. Take the premium feel a step further by upgrading to climate-controlled contour comfort seats equipped with a massage function. The two-row compact SUV also has foldable rear seats that allow drivers to maximize their interior cargo capacity on a whim. To round things out, the Q-Tron has great technology features like the pristine 10.1-inch touch screen infotainment system and upgradable audio options. Even the dashboard is digitized with an incredibly clear and comprehensive virtual cockpit display making the Q-Tron feel part SUV part spaceship.
Shop Audi West Palm Beach's Inventory
Do you want to be the envy of your neighborhood with the latest electric vehicle from Audi? Shop through our inventory of brand new 2021 Audis like the 2021 Audi Q-Tron. Take one for a test drive, and witness the environmentally friendly power for yourself.




Contact Us
Do you have additional questions on what the 2021 Audi Q-Tron has to offer? Are you interested in scheduling a service appointment or a test drive? No matter your needs, don't hesitate to reach out to one of our experts at Audi West Palm Beach. We would love to assist you with all of your luxury Automotive needs!