Back in the 1960s, it was stylish to just peregrinate from place to place-going wherever you'd please, doing whatever you'd please, and loving whomever you'd please. These days, that's no longer the case.
Today, it's stylish to rip down the highway in a sexy 2018 Audi S4. Anything less seems a little bit lame.

That's why we wanted to tell our customers in West Palm Beach, Delray Beach, and Boynton Beach all about the 2018 Audi S4, and why our team at Audi West Palm Beach wanted to write this S4 review.
Don't walk around southeastern Florida in your worn-out sandals; roll around in a fresh 2018 Audi S4.
Audi S4 Sedan: Scene-Smashing Design
What do we mean when we say scene-smashing design? We mean a car that just outclasses the pack.
Audi S4 interior: The S4's sumptuous cabin is truly a cut above the rest. With a high-tech 3-spoke multifunction steering wheel, an available panoramic sunroof, a standard 12-way power front sport seat, and optional Carbon Atlas inlays, you'll wonder if you really stepped into a vehicle, or a spaceship.
Audi S4 exterior: With Audi's distinctive Platinum Gray Singleframe front grille, everybody will know who you are (a VIP) and what you represent (the spirit of superior German automotive engineering). Then, when you factor in standard LED headlights, standard LED tail lights, and quad-exhaust tailpipes, some people might mistake this sedan for a futuristic cyborg-like tiger, ready to pounce upon its prey.
It's simple: When the 2018 Audi S4 passes by, heads will turn, eyes will pop, and jaws will drop. And, although this isn't the primary reason for choosing a car, the S4 might even attract a hot date or two!
Audi S4 Sedan: Jolting Performance
You can choose the available 3.0L TFSI® V6 engine. And, we must say, you'd be making the right choice.
That engine will put 354 horsepower and 369 lb-ft of torque right under your foot. That's a lot of power. And, you know what they say: With great power comes great responsibility. That's why the Audi S4 is so efficient. We're talking about fuel economy ratings of up to 21 MPG in the city, 30 MPG on the highway, and 24 combined MPG.1 What's wrong with saving a little bit of cash?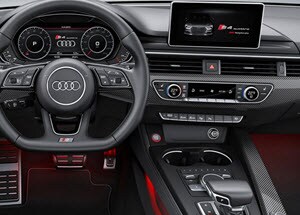 Here's what an engine like this allows you to do. You can accelerate from 0 to 60 MPH in just 4.4 seconds, and you can zoom at a top track speed of 155 MPH, or 130 MPH with all-season tires. Incredible.
Schedule Your 2018 Audi S4 Test Drive at Audi West Palm Beach Today!
If you live in Boynton Beach, Delray Beach, West Palm Beach, or any of the surrounding Florida towns or cities, and you'd like to test drive the 2018 Audi S4, you can do so at Audi West Palm Beach right now!
Just get in touch with us to make an appointment. Call us, chat with us online, or stop by our dealership.
1. 2018 EPA estimates. Your mileage and emissions will vary and depend on several factors, including your driving habits and vehicle condition. See www.fueleconomy.gov for details.