A coupe is cool enough on its own. Then you chop off the top and call it a cabriolet? Now it's at the next level of cool. Then you give it Audi's distinctively European personality? Now it's as cool as cool can be.
The 2018 Audi S5 Cabriolet is so cool that it's almost too cool for us to drive…almost. However, it's not too cool for you to drive. In fact, it's just right. If you live in West Palm Beach, Delray Beach, Boynton Beach, or any of the surrounding Florida communities, just contact us at Audi West Palm Beach.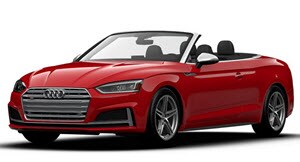 Convenience in a Class of Its Own
According to the website AutoGuide.com, the 2018 Audi S5 Cabriolet boasts significant convenience upgrades over the 2017 model. That's a relief, because you want to feel relaxed while you're driving.
They write that, "the fully automatic soft top now has better sound, heat, and cold insulation." They also say that it's much quieter in the cabin, even when you're roaring down the highway with the top down. That's great, because nobody wants to have to shout just to be heard above the road's oppressive din.
Furthermore, they installed microphones right into the seatbelts, at about shoulder height. This way, talking on the phone is a lot easier, as well-at least the person on the other end can actually hear you.
We'll also give you an overview of the roof's impressive retractability specifications. You can open it in 15 seconds, you can close it in just 18, and you can do so while driving up to 31 MPH. Whoa!
3.0L V6 Engine: Unmatched Power
Since the 2018 Audi S5 Cabriolet is a classy European sports car, you'd expect it to have the performance to live up to that designation. We'd like to reassure you that it does. Introducing its standard V6 engine.
This turbocharged product of German engineering delivers some seriously impressive power ratings. We're talking about 354 horsepower and 369 lb-ft of torque, when matched with Audi's high-tech, innovative tiptronic transmission. This makes accelerating a breeze, and an exhilarating one, at that.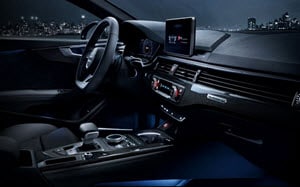 State-of-the-Art Audi Technology
Last, but certainly not least, we'll introduce you to a few of the S5 Cabriolet's technology features. It has a user-friendly MMI® infotainment system, complete with a touch-pad rotary dial. It's compatible with Apple CarPlay™, Android Auto™, and wireless charging, so you can probably hook up your smartphone.
One of its most helpful driver-assistance systems is the top-down 360-degree view camera, which allows you to see if anything is in your way as you're backing up. The car can also connect to the web. Amazing!
Test Drive the 2018 Audi S5 Cabriolet Soon at Audi West Palm Beach!
It's almost time for your exclusive test drive of the 2018 Audi S5 Cabriolet. And there's no better place to do it than right here at Audi West Palm Beach. We're here to serve our customers from West Palm Beach, Boynton Beach, Delray Beach, etc. That means we're here to serve you. Get in touch today.