The 2018 Audi A4 and the 2018 Mercedes-Benz C300 are both titans of the compact luxury class. They have comparably desirable features, styles, and performance numbers.
But the 2018 A4 offers more standard options and features without having to check off option packages that add to the delivery price. The A4 also boasts a better all-around demeanor, with a roomier trunk, faster acceleration, and more comfortable handling. It also boasts incredible technology that only Audi can offer, like a stunning 12.3-inch virtual cockpit.
Luxury car lovers in West Palm Beach, Delray Beach, and Boynton Beach interested in learning more about how these two vehicles stack up can read on for our full car comparison. They can also experience the Audi A4 in person when they schedule a test drive at Audi West Palm Beach to form their own opinion.
Exterior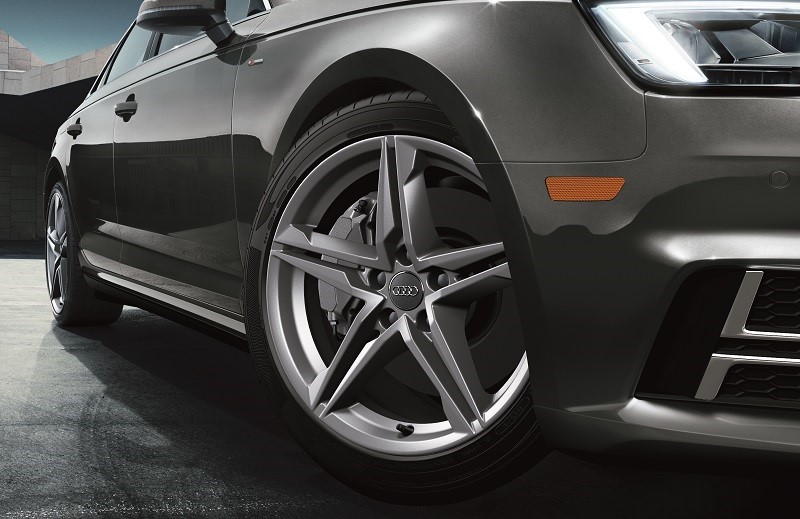 Both the 2018 Audi A4 and Mercedes-Benz C300 make their luxury nature known with stunning designs. Of the two, the A4 has the more conservative and cohesive design. Pleasant round angles on the front fascia and canopy are complemented by stunning accents, including a stylish character line crease and unmissable LED accent lights.
By comparison, the C300 is much more boldly styled. An oversized MB tri-spoke logo anchors a front fascia dominated by aggressive curves, and the side profiles of the vehicle are given deep character and belt line sculpting. The overall effect makes the vehicle's proportions appear to vary depending on the viewing angle.
In the end, the appreciation of the two drastically different approaches comes down to personal preference, but the Audi's more subdued design cues and overall consistent shape may likely appeal to a wider range of tastes.
Interior
Like its exterior, the 2018 Audi A4 uses a more restrained and traditional approach to its cockpit. Well-bolstered seats and an airy, open dash allow for easy access to all the instruments.
The Mercedes-Benz C300 again aims to make a bolder impression, and it results in a well-executed curving dash design that makes it stand out within its segment. High-quality materials and excellent ergonomics further complement this bold design philosophy.
However, the Audi A4 interior comes with more standard features that must be added as options on the C300. Leather upholstery and heated seats are standard on the base trim Premium A4, for instance.
The Audi A4 also has optional features that the C300 can't provide, including the cutting-edge 12.3-inch virtual cockpit driver display that can be customized to arrange digital gauges at the driver's preference. The system can even overlay stunning full-color navigation aids using Google Earth or Google Maps.
Also unique to Audi is the MMI touch system, which uses an intuitive touch interface and advanced handwriting-sensing to input commands.
Overall, while the Mercedes-Benz C300 interior is the more standout of the two vehicles, the A4 ultimately offers more luxury without the need for expensive add-on packages.
Performance
The Audi A4 Premium base model comes standard with the ultra front-wheel-drive powertrain, which delivers 190 horsepower with highly competitive fuel economy for its class. Switching to the non-ultra powertrain improves output to 252 horsepower, earning you 0-60 mph within 5.7 seconds. Non-ultra A4s also come with standard Quattro all-wheel drive.
By comparison, the Mercedes-Benz C300 comes with a 241-horsepower engine, and this configuration requires an additional cost to add 4-Matic all-wheel drive.
Both vehicles have optional driver-controlled damping systems, but the Mercedes-Benz version is more geared toward improved performance and cornering at the consequence of a slightly harsher ride, while the A4 improves ride comfort despite a lower ride height.
2018 Audi A4 vs Mercedes-Benz C300
Ultimately, the Mercedes-Benz C300 is an excellent vehicle but one that's not quite as focused on bringing value and comfort compared to the Audi A4. Those who select the A4 will find great performance, more standard features, more options, and a more comfortable ride while only sacrificing a marginal amount of bold style.
Drivers from West Palm Beach, Delray Beach, and Boynton Beach can make up their own mind as to what luxury compact car best suits their needs when they test drive the A4 in person. View the available inventory at Audi West Palm Beach now to find the perfect A4 for your needs and budget then schedule it for a test drive today.