If you live around West Palm Beach, Delray Beach, or Boynton Beach, then you've probably come to expect the best. After all, it's one of the most beautiful areas in the country and quite affluent, too.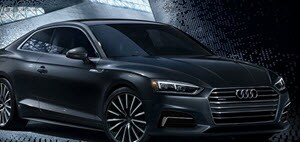 You've probably come to expect a sedan like the 2018 Audi A5 or the BMW 4-Series. Why shouldn't you? However, the tough part is determining which one is the ideal car for your lifestyle. That's why our team at Audi West Palm Beach wrote this comparison between the Audi A5 and the 2018 BMW 4-Series.
Exterior Style - Audi A5 vs BMW 4-Series
We'll start by glancing over the Audi A5's look. How appropriate, seeing as that's the first thing people will notice when you drive by. Its iconic Singleframe® grille is the centerpiece that ties it all together, with what the manufacturer describes as, "sculptural horizontal lines." On either side, you can find available full LED headlights along with daytime running lights-not to mention the LED taillights.
While the BMW 4-Series has its own exterior merits (including its signature split BMW grille), it's not nearly as attractive as the Audi A5. If you need to see this for yourself, come down to our showroom.
Interior Design - Audi A5 vs BMW 4-Series
While the exterior is the first thing people will see as you drive by, the interior is the first thing you'll experience when you drive the 2018 Audi A5. What an experience it is! With a three-spoke multifunction steering wheel (complete with an available leather-wrap and optional paddle shifters), a beautiful panoramic sunroof, and classy ambient LED interior lighting, you'll feel like you've stepped into paradise. In some ways, you truly have.
On the other hand, the 2018 BMW 4-Series offers its own version of a driver-centric interior. However, it pales in comparison to the Audi's-just like it did on the exterior. It doesn't have that something special.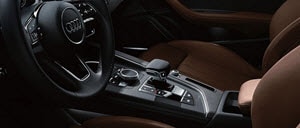 Performance: Which is the baddest sedan of them all?
Audi built their A5 sedan with an available 2.0L TFSI® direct-injection DOHC four-cylinder. This machine, which features the Audi valvelift system, can generate up to 252 horsepower and 273 lb-ft of torque. With the legendary German Quattro® all-wheel drive system, it's a force to be reckoned with.
BMW designed their 4-Series sedan so that it can accelerate from 0 mph to 60 pm in only 4.6 seconds. Although that is quite impressive, we don't get nearly excited about this car's engine as the Audi A5's.
Contact us at Audi West Palm Beach to schedule your test drive soon!
Well, it looks like the verdict is in and the Audi A5 comes out on top. If you'd like to take it for a test drive, simply contact us at Audi West Palm Beach. We're here to serve our customers in Boynton Beach, Delray Beach, West Palm Beach, and the surrounding Florida communities.