The 2018 redesigned Audi Q5 is quickly becoming one of the most popular vehicles for buyers near West Palm Beach, Delray Beach, and Boynton Beach. But it's not the only option available. Another popular vehicle is the 2017 Mercedes-Benz GLC-a model that hasn't received a major overhaul since its release in 2015.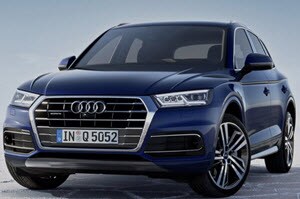 Let's take a look at how the two vehicles compare in this 2018 Audi Q5 vs. 2017 Mercedes-Benz GLC from the team at Audi West Palm Beach.
2018 Audi Q5 Outruns the Competition
With the complete overhaul of the 2018 Audi Q5 comes an incredibly powerful engine that beats out most of the competition in the Luxury Compact SUVs class. The impeccable 2.0L turbocharged engine produces up to 252 horsepower and 273 lb-ft of torque. With an acceleration from 0 to 60 MPH in just 5.9 seconds, you'll be able to easily merge on the highway, pass sleepy early morning drivers, and get to work on time every day.
Unfortunately, the 2017 Mercedes-Benz GLC is a bit underpowered in comparison. The GLC 300 is powered by a great engine. But its turbocharged power output maxes out at just 241 horsepower. The vehicle does offer the same 273 lb-ft of torque, but without that extra horsepower, it simply can't compare to the performance of the 2018 Audi Q5.
The other major difference in performance between these two vehicles is in the availability of an all-road driving mode. The 2018 Audi Q5 comes with a quattro® all-wheel drive system with ultra technology that adds efficiency and performance value to the vehicle. By consistently gauging the traction in your wheels, the system is constantly responding by providing power where it's most useful. But the 4MATIC all-wheel drive system in the Mercedes-Benz GLC is not only not a standard feature, but it doesn't respond as fast as the alternative.
2017 Mercedes-Benz GLC Missing Key Tech Features
Probably the most stunning difference between the 2018 Audi Q5 and the 2017 Mercedes-Benz GLC is actually in their technology. The Q5 offers a state-of-the-art 12.3-inch information cluster on the driver's dashboard, as well as an MMI® touch infotainment system with handwriting-recognition technology that's beautifully designed and easy to use.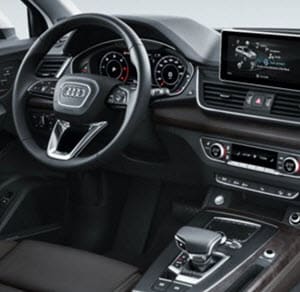 The 2017 GLC has a very small driver information center and a confusing console-mounted controller that's somewhat difficult to use while driving. Instead of using your own handwriting to input an address into the navigation system, you'll need to contend with choosing from a pre-loaded system of options that may or may not have the address you need.
Learn More About the 2018 Audi Q5 Today
The 2018 Audi Q5 is an incredible vehicle that has it all. Between its innovative technology features and thrilling performance, it's a family-friendly SUV that meets all your family's diverse needs.
When you're ready to experience all that your next vehicle has to offer, schedule a test drive at your local dealership near West Palm Beach, Delray Beach, and Boynton Beach.