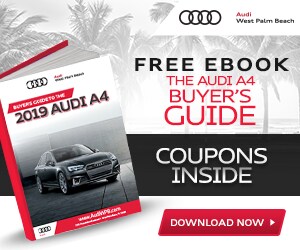 Have you seen an A4 on the road recently and wondered how it might fit into your West Palm Beach, Delray Beach, or Boynton Beach lifestyle? Well, given how versatile this sedan actually is, we're inclined to say it would fit pretty well, but we want you to decide for yourself.
The Audi West Palm Beach team has put together this Buyer's Guide to the 2019 Audi A4 eBook to show you exactly what it can do. Inside, we talk about:
The many ways you can customize the car's appearance
A4 engine options
The variety of technology found in the cockpit
The Audi A4 has a lot to offer both in terms of technology and power. You can learn more about it by reading this FREE eBook. Download your copy today, and you'll get a coupon with it to help with your next new or used purchase at our dealership!