There are many different facets of being a car owner. Part of it is going to new places and seeing new things through the windows of your very own car.
The other part of being a car owner, though, is maintaining your vehicle so it can get you everywhere you want to go. Your vehicle has hundreds of parts and they all have important jobs. So, how are you supposed to keep up with maintaining them all?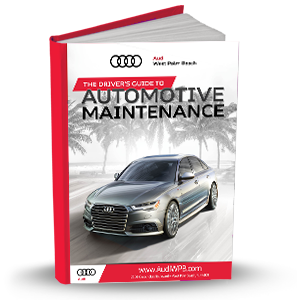 Our team at Audi West Palm Beach has put together this FREE Driver's Guide to Automotive Maintenance eBook to help you with exactly that. In this guide, you'll learn about important automotive maintenance topics like…
How to read and understand your owner's manual
Visually inspecting your vehicle the right way
How to change your vehicle's oil
What replacements you should expect in the future
This guide is packed with information about these maintenance topics and much more. It will help you stay on track with your maintenance and keep you on schedule. To access your FREE Driver's Guide to Automotive Maintenance eBook, all you have to do is fill out the simple information request form on this page and click submit. Then, you'll be able to download it instantly!