Part luxury coupe, part SUV, the 2021 Audi Q8 is the ultimate luxury crossover SUV. With thrilling speed potential and an unbelievably comfortable interior, the 2021 Audi Q8 drives like a cloud. A very fast cloud. Check out Audi West Palm Beach's 2021 Q8 review and learn about all that this luxury SUV has to offer.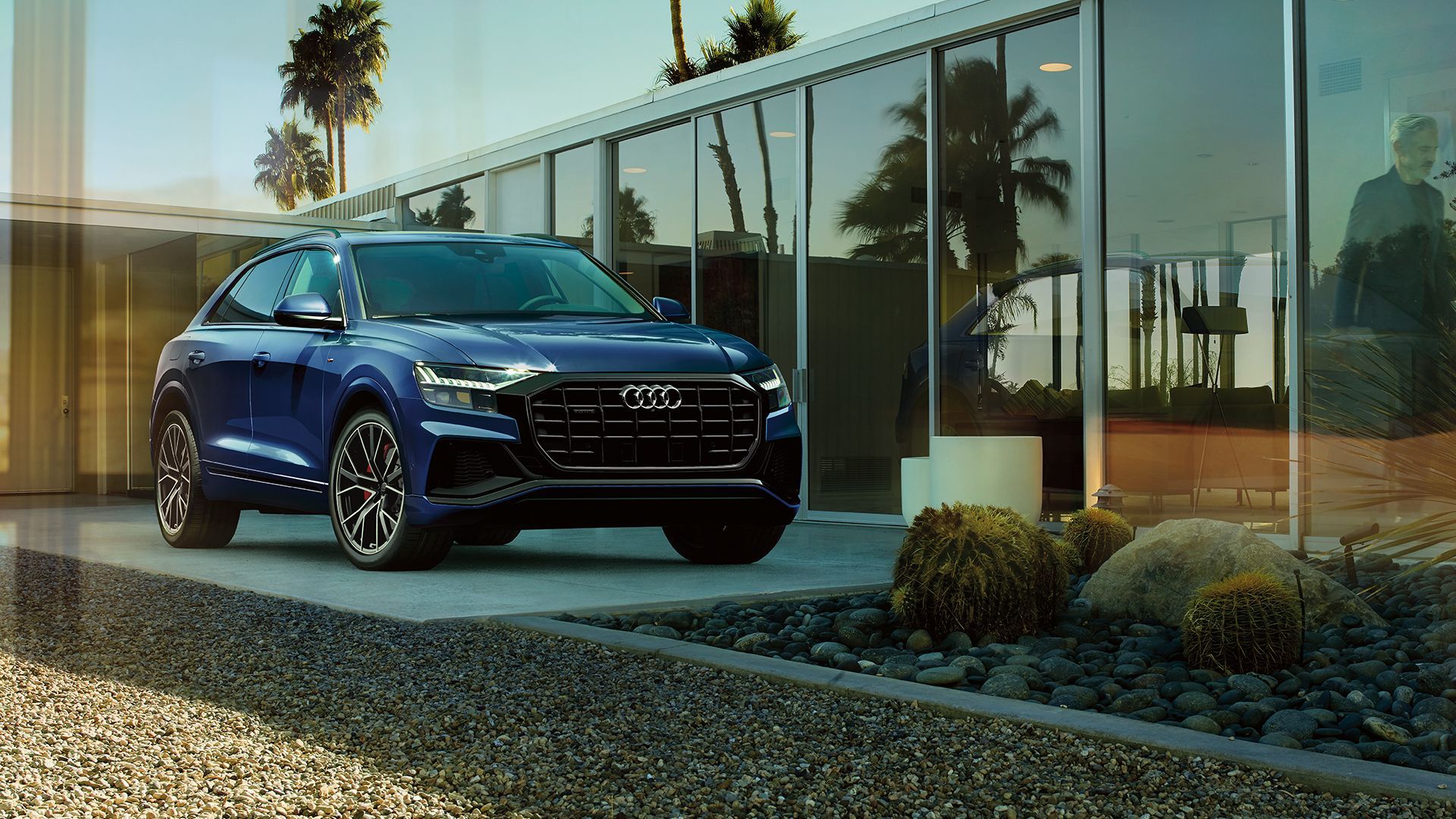 Under the Hood of the 2021 Audi Q8
Fans of the Audi Q8 have been yearning for a hybrid or electric model for years. The good news? The 2021 Audi Q8 has two plug-in hybrid electric models. The bad? Neither of these hybrid models will be making their way to the United States. If you live in the U.S., that means that the 335-horsepower turbo V-6 engine will have to suffice, but it's hard to complain about that kind of power. With the ability to go from 0-60mph in 5.6 seconds, driving a 2021 Q8 is as thrilling as it is smooth, especially when equipped with Audi's optional air-suspension system. Thanks to Audi's standard Quattro all-wheel drivetrain, this SUV can confidently travel across any terrain even under extreme weather conditions. While the Audi Q8 is a luxury vehicle, it can still be put to work. When properly equipped, the 2021 Audi Q8 is capable of towing an impressive 7,700 pounds, truly making it a must-have luxury SUV.
Inside the 2021 Audi Q8
If the 2021 Q8's performance capability wasn't enough to make your jaw drop, wait till you see the interior. The 2021 Audi Q8 comes in three trim levels, the Premium, Premium Plus, and Prestige. However, even if you choose the base model, you will have no shortage of luxurious features. The standard heated and power-adjustable front seats are incredibly comfortable and offer the chance to take comfort to the next level with the Prestige trim's massage upgrade. As far as passenger room, each Q8's two-row leather seating comfortably seats four adults, with room for a fifth in a pinch. Each Q8 also comes with a standard panoramic sunroof and a nice package of safety features. As far as tech goes, even the standard trim is decked out. Each Q8 comes with a digitized dashboard and a high-tech Bluetooth enabled center console touch screen that is great for controlling your music and driving climate. Impressively, the Audi Q8 also comes with a WiFi Hotspot capability standard allowing for drivers and passengers alike to stay connected while on the go.
Shop Audi Vehicles in West Palm Beach
At Audi West Palm Beach we have an extensive selection of new vehicles including the 2021 Audi Q8. Shop through our inventory online, and take your driving experience to the next level behind the wheel of a brand new Audi.