The 2018 Audi Q5 and the 2017 Volvo XC60 are two of the most popular options on the market near West Palm Beach, Stuart, and Coral Springs. Both luxury compact SUVs offer incredible performance and advanced technology, but it's also in these categories that the two vehicles differ the most.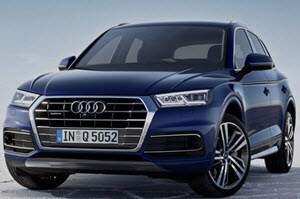 Take a look at how the two vehicles match up in this 2018 Audi Q5 vs. 2017 Volvo XC60 comparison from the team at your local dealership, then research your favorite model further at your local dealership.
2018 Audi Q5 vs Volvo XC60: Performance Specifications
To start off comparing these two vehicles, we took a look at the basic models and their performance specifications. This showed us that there are some pretty significant differences between the two vehicles at their core, and is an excellent springboard for future comparisons.
The 2017 Volvo XC60 comes standard with a 2.0L 4 cylinder intercooled turbo engine that produces up to 240 horsepower and 258 lb-ft of torque. This engine is paired with front-wheel drive and an 8-speed automatic transmission with Overdrive and Manual mode.
The 2018 Audi Q5 comes standard with an upgraded engine. The 2.0L turbocharged engine produces up to 252 horsepower and 273 lb-ft of torque. The vehicle has an acceleration from 0 to 60 MPH in just 5.9 seconds, and it's available with the quattro® all-wheel drive system, which makes your weekend adventures out of Coral Springs, West Palm Beach, and Stuart just a little more fun.
Comparing Technology in the 2017 Volvo XC60 vs 2018 Audi Q5
The real fun in a new vehicle is checking out and enjoying all the advanced technology. And while both the 2017 Volvo XC60 and the 2018 Audi Q5 have some cool tech features, one of them offers some pretty serious advantages over the other.
The 2017 Volvo XC60 comes with a fine infotainment system. The vehicle offers navigation, an in-vehicle Wi-Fi hotspot, and an onboard hands-free communications system. But there's nothing super special about the system, and it's kind of difficult to use with most of the controls being only on the multi-function steering wheel.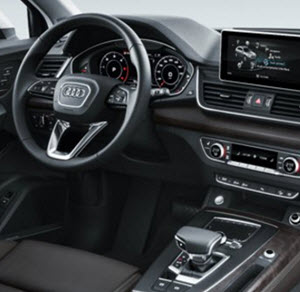 But the 2018 Audi Q5 system is a thrill to use, especially for the technophile who wants to enjoy the most advanced technology on the market. The system features the newly available MMI® touch infotainment system with handwriting-recognition technology that makes it possible to simply write an address by hand into the navigation system. With audio, phone, and navigational information available in a dash, you can enjoy the Google Street View™ and Google Earth™ views without a bunch of hullabaloo.
Get a Closer Look at Your Favorite Vehicle
The 2018 Audi Q5 is available right now at your local Audi dealer near West Palm Beach, Coral Springs, and Stuart. Learn more about the stunning new addition to the Audi lineup in our 2018 Audi Q5 review or get the full vehicle specs in the online inventory at Audi West Palm Beach now.
Ready to get started? Schedule your test drive now.