Audi vehicles are known in the luxury car class for their stunning designs, luxurious interiors, and powerful engines. But they're also popular for the advanced technology available as standard and optional features. 
At Audi West Palm Beach, we want to make it easy for you to find the information you're looking for during your next car buying journey, which is why we provide these vehicle technology reviews.
You can learn more about all of the technology offered in the different models and trim levels in the Audi lineup in the pages below:
Audi A4 Technology
Audi A5 Technology
Audi A6 Technology
Audi Q3 Technology
Audi Q5 Technology
Audi S3 Technology
Audi S4 Technology
Audi S5 Technology
Audi Q7 Technology
Audi A3 Technology
Audi Technology by Model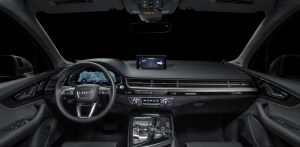 Each vehicle in the Audi lineup is loaded with advanced technology features exclusive to Audi. These features are what set the brand apart from others in the industry. Each model in the lineup is further separated by size, capability, performance, and standard features in trim levels. 
These differences are substantial, choosing a model and trim level is an important part of the buying process. After you've found a model or two that fits with your wants and needs, you can look further at the technology features available in the standard, middle, and upper trim levels.
Standard and Optional Technology Features
With each trim level, you'll find standard features and those that are optional. Several features available in the current Audi lineup that really set the brand apart from others include the following:       
MMI Navigation Plus system that offers Google Earth integration with 3D satellite imagery
          
Audi Connect system that offers a Wi-Fi hotspot with 4G LTE connectivity
          
Audi TFSI system that turbocharges and supercharges your engine power for enhanced fuel economy and performance 
Keep Reading to Learn More
Each of our technology reviews is designed to give you the information about Audi technology features you're looking for. So if you're interested in purchasing an Audi vehicle at your local dealership near West Palm Beach, Delray Beach, or Boynton Beach, check out the pages below and get reading. 
When you're finished reading about the incredible technology features of the Audi lineup, be sure to take a look at the huge inventory at Audi West Palm Beach in the Explore tab above. There you'll find valuable information about each of the vehicles in our current inventory, including their awesome technology features.