Welcome to the Audi West Palm Beach library of dashboard light guides! We created this index for our drivers in West Palm Beach, Delray Beach, Boynton Beach, and the surrounding Florida communities.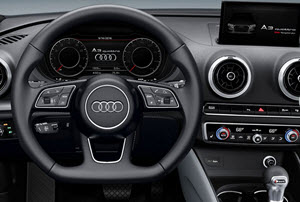 On this page, you'll find a comprehensive list of useful dashboard light guides for luxury vehicles such as the Audi A3, Audi A4, Audi A5, and many others. We hope you take some time to browse. 
If you have any questions about a potential issue with your vehicle, don't hesitate to reach out to us.
Audi A5 Dashboard Light Guide
Audi Q5 Dashboard Light Guide
Audi S5 Dashboard Light Guide
Audi A3 Dashboard Light Guide
Audi S3 Dashboard Light Guide
How Are Audi Dashboard Light Guides Helpful?
Our thorough guides to the dashboard warning and indicator lights that you'll find on various Audi models can help you in many different ways. We'll go over a few of them right here. Check it out...
They'll let you know when your car is working properly. For example, if an icon indicates that your cruise control is engaged, then you can rest assured that this system is functioning as it should.
They can alert you of any minor adjustments that you need to make before hitting the road. Things like an open trunk, an ajar door, or an unbuckled seat belt are all very quick fixes. 
Last, and most importantly, they inform you when you need to take your Audi into the shop for a major maintenance/repair appointment. If that's the case, come down to our service center here at Audi West Palm Beach! Our expert automotive technicians can take care of anything.
What Should You Expect from Our Various Audi Dashboard Light Guides?

These articles are well written, and they're extremely easy to read. They'll give you all the information you need on about 10 to 15 different common Audi warning lights and indicators: what they look like, what they mean, and what you should do. Each guide will also tell you how to contact us for help.
If you live around Boynton Beach, Delray Beach, or West Palm Beach, then we encourage you to check out this page today. Find your Audi, click on the link, and read the dashboard warning light guide ASAP.
If you have any additional questions, you can get in touch with our team or schedule service on our site.