The oil change service is probably one of the only types of preventative automotive maintenance that we don't have to explain very often. Most vehicle owners know it's important. But many don't know why they need to get it done and have many questions about the service. That's why we've taken the time to answer some of our most frequently asked questions about oil changes.
Resources:
Oil Change Service: General Information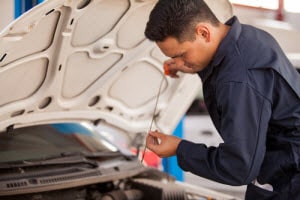 There's a reason the oil change service is one of the most well-known types of preventative automotive maintenance. Responsible for the proper lubrication of your motor, the service is integral to ensuring your vehicle doesn't overheat, so it must be done regularly. But what is an oil change? 
Motor oil needs to be at the correct level and be clean to do its job correctly. To do that, it must be drained out of the system and replaced every so often, along with an oil filter that traps any debris in the oil and prevents it from damaging the engine. The oil change service takes care of all that and keeps your vehicle from overheating.
Frequently Asked Oil Change Questions 
While many people know they need an oil change, few truly understand how the process works and generally have a few questions about the procedure. To make things easier, we've compiled a list of questions we get asked quite often and answered them all. Click on your question below to get more information!
Still Have a Question about an Oil Change?
We've provided quite a bit of information here, but it's possible you still have questions. At Audi West Palm Beach, we want to make sure that you have all the information you want and need so you can better understand and meet the needs of your Audi vehicle. 
If you have a question we haven't addressed here, feel free to reach out to us. Our team of highly trained service professionals will be happy to answer all your questions so you feel comfortable with your vehicle's preventative maintenance. 
Ready to make an appointment? Schedule your service now at Audi West Palm Beach to get started.